CBSE AFFILIATION NO : 1930610       
FROM CHAIRman'S DESK
It is my great pleasure to extend heartfelt greetings to our dear parents and students, who are already studying here, and to the aspiring students and their parents, who wish to study at SNS Academy.

At SNS Institutions, we believe that success comes from a relentless focus on initiative, innovation and execution. These concepts are not only vital to our development, but also to our sustained efforts. I would like to assure you, that this is just a humble beginning, as we move on the trajectory of growth, involvement and commitment. I wish to record my appreciation to all, for their contribution towards the growth of our Institution and look forward to taking on new challenges and scale new heights of achievement in future.

Our vision is to work towards a happier tomorrow by transforming the students of our SNS Academy. We are committed to making the students become dynamic unique individuals, with the capability to abstract thinking, solving high-level problems using scientific knowledge, thrive in teams, work well across international borders, have strong interpersonal skills and are capable of leading innovation. We have student-centered learning approaches such as project or problem-based learning, Hands-on Training, Tutorials and Puzzle-based assignments for improving critical thinking skills of the students.

We have a state of art campus made available through an ambitious program of renovation and new construction to accelerate our continued development as an academic center with all infrastructures in place meeting the world-class standards. The caring faculty, state of art infrastructure and friendly academic environment makes our school different and a respectable institution in the field of school education. We are here to help you nurture and realize your dreams. I convey my best wishes to all the students and their parents for a successful future and good education. We look forward to continuing to serve and keeping you updated on our progress.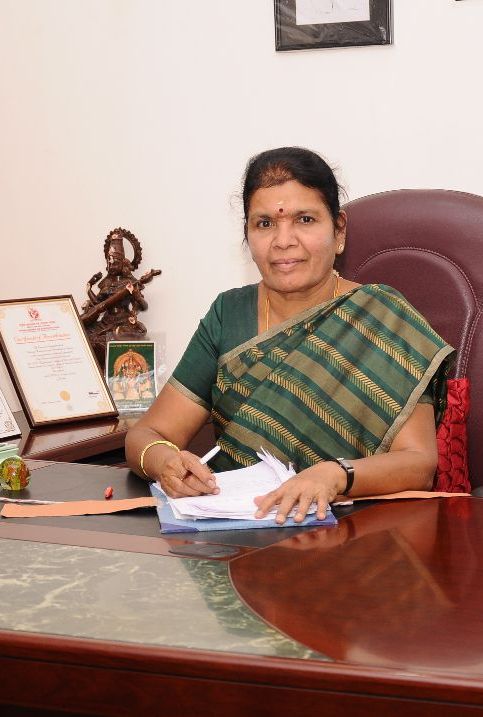 FROM CORRESPONDENT'S DESK
"When a drop of water falls into a river there is no identity!

But when falls on the leaf of a lotus, it shines like a pearl.

So choose the best place where you can shine."

It is my pleasure to welcome you all, to one of the finest educational institutions. As parents, selecting a school for your child is one of the most significant decisions you will make. We are strongly committed to our Learning Principle which states that "Quality teaching is not about teaching exceptionally talented students alone, but it's all about teaching all types of students and to produce exceptional work". We believe that if a child cannot learn in the way we teach, we must teach in a way the child can learn. Using various teaching methodologies, we will inspire and create interest in learning the subjects and train diversified students to achieve academic excellence.  We constantly strengthen for taking time to focus on discipline and support positive behaviors that does pay off in the end academically. We make easy things happen through hard work in a smart way.

SNS Academy promises to you

"Every day your child will learn something. 

Some days they will bring it Home in their Hands!!

Some days they will bring it Home in their Heads!!

And some days they will bring it Home in their Hearts...!"

The future of the world is in the classrooms of SNS Academy. With our TEAM of Teachers Together Everyone Achieves More and in our classrooms, kindness always rules!

Let us pray the Almighty to shower blessings for the glorious future of the students of SNS Academy and I thank you for your interest in our school. We eagerly look forward to meeting you soon!!
FROM PRINCIPAL'S DESK
Greetings from SNS Academy!
I am proud to be part of this progressive school where the child is the hero. Everything we do at SNS Academy is child centric. Our aim is to provide the best environment to every child who decide to spend their childhood in our campus.

Education is not just imparting knowledge. It is a much broader concept. Empowerment of children with competencies, skills and abilities has gained importance in today's world. At SNS Academy, we always aim at the holistic development of a child keeping in mind their innate talents. Key aspects such as physical, intellectual, emotional and cultural well-being of students is nurtured through Design Thinking framework.

Our focus is to provide students with ample opportunities to evolve as confident and thoughtful individuals and to make them future ready for the VUCA world. Emphasis is also laid on inculcating values which will go a long way in helping them to be responsible citizens of our country and the globe.

We help our students to awaken joy, curiosity and a deep desire to solve problems. Right from the foundation stage, we inspire our students to pursue leadership roles and positively impact those around them. We help them understand more about other cultures and corners of the world to help them be global citizens

SNS Academy will be a stepping stone to a world of possibilities and opportunities. As a parent, well-wisher, student or someone who is looking out for the right place for your child – I welcome you to come and experience our approach. As a team, we are here to listen and act.

Warm regards
Boby Mathew